Bill is very proud of his koi pond he made installed, now he can fish at home when he is lazy.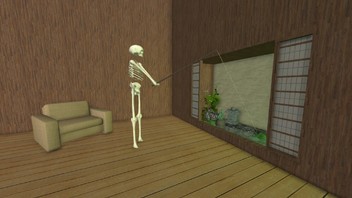 This japanese style pond adds a relaxing atmosphere to your living room.
It can be inserted into a wall or replace your old granny cupboard, dimensions are width 6 x height 5 x depth 2.
Once completed, this decor is very cheap minimalist : you need 1 hemp, 1 carrot, 2 lettuces, 2 hogweeds or cotton.