I honestly want to go on my hiatus. Just not seeing eye-to-eye, and all this other nonsense. I however had to post this for comical effect. I'm actually laughing at this nonsense.
Disclaimer: This may appear as if it's negative. I'm actually happy; Highly amused at the weird lengths fake people go to in shaming entertainment inside and outside of North America. Shaming Anime, and everything else just because they can't get the numbers Asian media markets can get. Stats are on Google, just Google. If NA gaming industry actually focused on quality we wouldn't be here laughing at them. Also, I'm going to try my best not to post for a long while after this post after the disagreements "we" had all around. Bump up the Merry Christmas and New Years threads again. I'll understand why. I however still wanted to share actual comedy as to why foreign games tends to do better than Americanized ones. It's for the laughs.
---------
- Bloomberg's/Twitter/SJW's Fake anti-gendered Stereotype campaign.
A recent campaign on Twitter about a false narrative push against "gender stereotypes" is making its round again.
https://twitter.com/i/events/1475475587749724162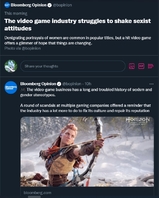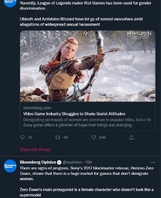 (Artificially trending)
This is all falsely and artificially trending for fake hate-clicks and etc. It's because of these stupid Americanized political narratives that Asian games tend to outperform western games. Yes, I may be saying this, you however can't deny the fact that Asian games have been the most popular since the 2000's with the help of Playstation 1 & 2, Nintendo, & even Xbox. Too many Americans were insecure about themselves, then Europeans, and then other fragile people.
Why do you love Rising World? It's European, it's German, and it's freely doing what it wants. Why we actually love Rising World is because we can do things freely on our own terms. Now apply that same logic to Asian games, then amplify that by a mainstream amount. As for American games? People force themselves to play that because their friends are playing it, etc, etc. cliques and tribal mentality, or simple availability. Then there are those strangely fearing anime for whatever weird reason. Maybe it's cultural upbringing or whatever. I went into it because of the scarcity of open-mindedness in Canada siding more with my European side which eventually led me to the Japanese philosophical side. Freedom in media and gaming is where it is at.
They (fake journalists) want to prop up anything western while shunning anything anime because it goes against their values. Some (small portion) of it justified, others not so much. The harassment campaigns are not justified. It's the way they go on about it which leads to "give them an inch and they take a mile" saying. They go as far as they're able to while abusing and hijacking their own movements.
It's characters like these (Shenhe from Genshin Impact), among others being unfairly witchhunted.
Tomb Riader, Genshin Impact, among others were noted to be hated. Insecure much? It's a vicious cycle we need to continue to laugh at, something I'm doing right now. Stupid gaming journalists.
Some can't even beat a tutorial level. This is the state of journalism, hence Gamergate. It spawned because journalists couldn't do their own job.
---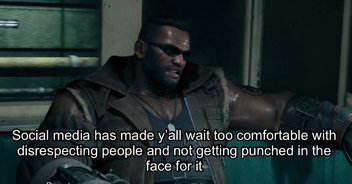 Found this on Twitter, probably because something comically horrible was trending. Or maybe just coincidental. Every time I go through Steam forums I always meet the most negative bunch of people also because Steam moderation supports and encourages it. Even certain developers let it happen. Yeah.
---
THIS is WHY I hate game journalists because they're afraid of everything. Hate-baiting, paranoid, among other nonsense. Click-baiting.....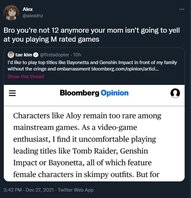 Games are supposed to be free, fun, and entertaining. A proper escapism. Instead of viewing me as crazy it be nice if we could keep our gaming integrity intact instead of falsely conforming to moronic movements. Give an inch and a mile is taken...... Remove one thing and then everything else shatters with it like a house of cards. Not an exaggeration. I wish it was. The funny thing about Bloomberg Opinion piece? Genshin Impact is actually censored by the CCP so it's as tame as you can get it. Or as lewdly tame as you can get it. Genshin Impact is genuinely family friendly thanks to the hypocritical Chinese government. I'm finding so many holes and flaws in Bloomberg's hitpiece it makes me laugh. Grow a back bone. Go celebrate Christmas and New Years instead of making comical hit pieces.
But yeah, pretend I'm rambling, or whatever. Whatever makes people sleep better at night, I guess. I'm laughing here at the lengths western folks go to just to corrupt and censor their own entertainment and media. Even allowing it. I'm just... laughing.
You're free to play whatever you want, however you want it. That is what a games are for. It's why we can mod things, buy DLCs, make textures, etc. Simply imagine Rising World without modding.... Imagine plugins and modding banned because it offended,.... *pulls card from deck*..... A child girl who can't eat carrots. Can't have modding and plugins because it offends a kid unable to eat carrots.

Yeah. Analogies are a bit hard on a whim.
All these fake outrage attempts.
---------------
More comical nonsense hidden in spoiler tag.
Again, imagine if Rising World is censored in some way, shape, or form. It needs to be as open as possible.
---
But yeah, Merry Christmas, Happy New Year, and have a good 2022. I mean it. Happy New Year!

(If you hate this comical posting then go bump up the festive threads to hide this one. Now to go silent for awhile, if I'm allowed to.)