Servus,
es ist ein Unity Asset-Bundle, dass sich mit noci´s "Unity Bundle Loader" Tool laden und platzieren lässt.
Dieses Bundle beinhaltet verschiedene alte Zahnräder aus Holz.
Kronenräder waren in der Antike und im Mittelalter in vielfältigem Einsatz.
Siehe Wiki: Kronenrad oder Kammrad
Physikbasierte Objekte, die miteinander kollidieren und sich drehen.
Physics-based objects that collide with each other and rotate.
Unity Bundle Loader von noci
Damit lassen sich selbst erstellte Unity Asset-Bundles in der Rising World Spielwelt platzieren.
Download und eine ausführliche Anleitung
Vergisst die ToolsAPI von noci nicht
Mein DropBox Ordner für R.W. Asset-Bundles - Zahnräder, Windmühle, Wasserrad ...
Download über DropBox: Asset-Bundles für Rising World
Physikbasierte Windmühle / Physics based Windmill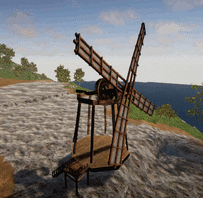 Siehe auch: