Someone said "If you can't tell the difference between sharks and woodplanktriangles, then you are in trouble". But Bill is smart, he disguised to escape the wild and hungry woodplanktriangles. Phew!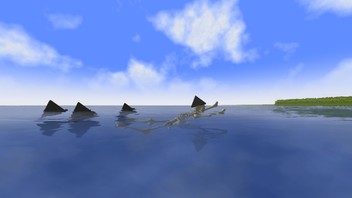 You can live many days on your own on this house boat.
Fish, eat, sleep... what else ?
NB : it happens that doors don't open/close anymore after setting a BP. Don't do what i did : i broke the doors and replaced them with new ones, but when i logged back later, the doors i had broken were back and i got double doors everywhere ! So yes, restarting the game reloads the door script (leaving the chunk doesn't).