"The Beginnings". I'll be splitting this off into many parts, this first part can be considered a prologue of what I went through, what I plan to do, etc. It may not be "photogenic", I will however TRY to put appealing pictures for viewing pleasure. I love Rising World, I want to share the fun. Even if people may dislike me (for whatever reasons), I still want to share my fun and enjoyment with Rising World.
With the biomes update finally having been released it's time to have fun. Time to get cracking for real.
---------------------
Prologue of - "Harbour City" (To be named later; Founded on November 2nd, 2022)
- A crude picture of where my main settlement shall be. I forgot name of this enclosed body of water. (I tried searching up water terms; Cove, bay, gulf, etc).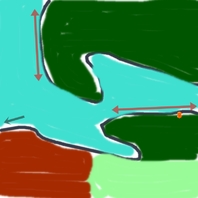 Legend:
- Red = Red forest
- Black arrow = points to spawn 1 minute away
- Outter North-south arrow = Planned outter harbour (bigger boats)
- Inner east-west arrow = Inner harbour (Smaller boats)
- Orange/Red Pin = My home.
(World Seed: 4520548379456497)
---------------
- "Spawn" (Humble beginnings):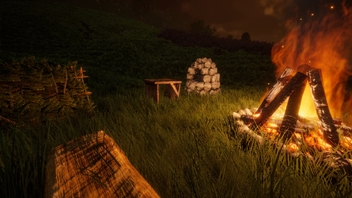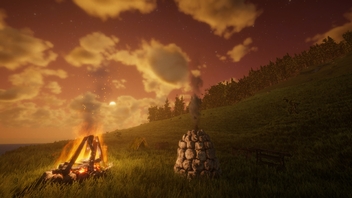 This second image reminds me of my time in British Columbia. Just a 2 minute walk leads you to my WIP harbour settlement. My humble beginnings, my actual start in this new Unity world. Onwards to adventure!
-----------
- "Harbour City" (To be named later):
Found a lovely "inlet" allowing for proper protection of boats. Good place to shelter up, build up, and to set up a trading area. As noted, took me a few hours and days to start construction, finally founding my 'Harbour City' (TBD) to allow for smaller and bigger boat traffic. Started off with a main road, a harbour lining, and even placing my home first. My home may be "simple and boring", it however is functional, or should be. Gotta start somewhere. I scouted out the terrain to find the 'medium' height range between high and low, painstakingly flattening the area. Doing this, I even fiddled with blocks finding out (through a guide on Steam) that 'C' gives me more building controls. I still decided to stick to the default grid giving it a more "European" built vibe.
Painstakingly digging out stone and dirt, flattening areas, planning to curve the terrain to the mountain later.
- My WIP Home next to the roadway.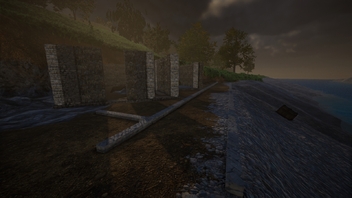 I'm well aware this isn't much, I however gotta start somewhere. This is my "somewhere". I now need to name my settlement. I need to finish building my home, my workshop, my pub, storage building, fishing warehouse, etc. I have lots to build and rebuild. I even need to place a simple shelter of a structure at spawn. I may not expect visitors, for when I do it needs to shelter people. Needs to have basic supplies, etc. For now, I'll be working on my harbour settlement, picking out a name for it, and just settling in.
- My home with a "garage". To gain an upper floor later.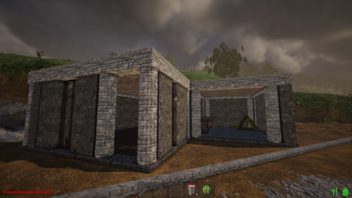 - Painstakingly figuring out how to build steps down to create lower levels of the harbour for rowboat, rib, etc.
- View of the inner body of water, the WIP roadway, the my WIP home. The dirt I'm clearing.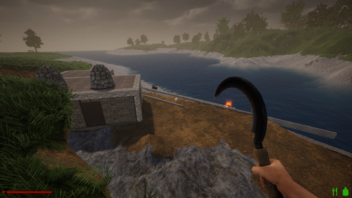 It's a start. Now to continue the process by working on my farm. Now I simply need more time to actually do what I need to do; To build fancy stuff. I wanted to build a rowboat for the past few days now, I however need a farm, a farm I need to make by clearing out dirt. Dirt is slowing me down so much.
-------------------
My concerns:
- I wish we could pick up dirt from dirt voxels.
- I wish I can place dirt (I have to use rakes).
- I wish the pickup sound wasn't destruction, more of a peaceful JAVA pickup sound.
- I love how the water adapts to the terrain (no concern there).
- Having to painstakingly clear out dirt with everything getting in the way.
- Cycle spawning dirt from grass blades (to be fixed by Red51 later).
- Can't place raw stone in terrain.