Willkommen ist ein kleines Plugin, womit ihr eure Spieler auf den Servern begrüßen könnt.
Im Ordner "assets" findet ihr eine "test.txt" Datei. in dieser könnt ihr bis zu 75 Zeichen rein schreiben.
Wenn das Plugin auf dem Server ist, erscheint die Nachricht in der Mitte des Bildschirms für 30 Sekunden.
Welcome is a small plugin, which allows you to welcome your players on the servers.
In the Orner "assets" you find a "test.txt" file. In this you can write up to 75 characters.
If the plugin is on the server, the message appears in the center of the screen for 30 seconds.
Die ZIP-Datei entpacken und in deinen "plugin" Ordner kopieren.
Unzip the zip file and copy it to your "plugin" folder.
Wenn ihr aber 2 oder 3 Zeilen eingeben wollt könnt ihr auch gern die neue Version ( willkommen_0.2 ) nutzen.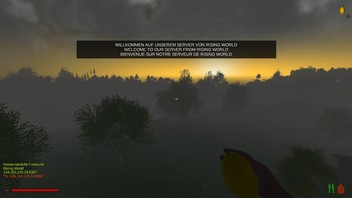 Willkommen Version 0.3.1

--Die SprachAPI wurde mit eingebunden und ist jetzt zwingend
--The SprachAPI was integrated and is now mandatory
--Die Zeit wie lange der Text erscheint, ist frei definierbar
--The time for how long the text appears is freely definable
--Die Schriftgröße ist jetzt frei definierbar
--The font size is now freely definable
--Es können nun auch mehr als 3 Zeilen gesetzt werden
--Now more than 3 lines can be set
--Groß und Kleinschreibung wird berücksichtig
--Upper and lower case is considered
--Ein Rahmen wurde hinzu gefügt
--A frame has been added
Configuration

Text eingeben

Ich möchte mich hier noch bei @noci für seine Hilfe, was auch die SprachAPI angeht bedanken.