Red51 noted a few simple times about gliding and how we would potentially have a hang-glider. It had me wondering, especially with how various Asian (Chinese & Japanese) games now favour gliding to get around in their game making me wonder about Rising World's state of things. I did note this on Steam forums in a bit of an obnoxious state, I'm however still curious now using this forum to post images to hopefully get further thoughts displayed.
Feel free to move this to suggestions if necessary. I simply wanted to discuss gliding now that we're spoiled by it in various games. The feeling of desiring flight, or simply gliding around.
-----------
It's been noted 'Breath of the Wild' on Switch "did it first", to which I've experienced it first on Craftopia. My most experienced and loved implementation of gliding is in Genshin Impact using preplaced thermals to venture around with some additional items boosting speed for a few seconds. The scenery is overly stunning when gliding around.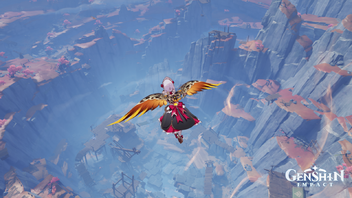 (Noelle over the recently added 'Chasm' in Genshin Impact.)
I'm aware Minecraft has their Elytra, something I've never properly experienced in vanilla. Others have, even using it far more than I ever could. I hate it, it's too fast, too clunky requiring fireworks to get places.
- Craftopia - Gliders: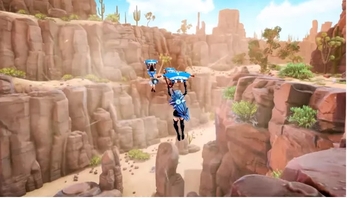 Friend introduced me to gliders in Craftopia while they were heavily into Genshin Impact before we switched spots. They noted how they forgot they weren't playing Breath of the Wilds, or Genshin to which they would obtain fall damage in Rising World, Minecraft, etc happily gliding in both Craftopia and Genshin. I haven't played this game since, just that Craftopia spoiled me, then Genshin after that.
Zenith MMO:
Not the best image, though it's fairly close to what I'm showing.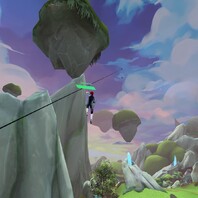 Image shows my friend zip-tying his way around while I watch, curse, and mumble my way around. To fly around you have to T-pose in VR mode making your way around on limited stamina. The more you play the further you'll be able to fly. Best thing about this was how you could angle your hands (controller) upwards or downward to move upwards or downwards in varying pitch. Seeing how VR is far off I simply wanted to note the satisfaction in gliding here. Gliding, that's all I wanted to note for Zenith, even if it's a wonky and clunky game.
------
Rising World's Gliding:
If my memory serves me correct, I believe Red51 desired a hang glider in this image form below.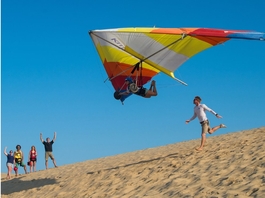 That's fine, I'm fine with this. I however am still genuinely curious, somewhat worried about how it shall handle in Rising World. How accessible, mobile, and fun is it? Does the Medieval Era gain their own variant, or will everything "fun" be in the modern era? I however have to note a few concerns about how we handle them in Rising World. For continual use could we snap the gliders onto our backs, or just a tinier version? Could they potential make use of thermals at random (over hot biomes), and even be able to climb up gliding towers to continue to hang glide? If we ever do get proper gliders, ones you could even attach to your back for easy mobility, I would make gliding towers, even ones you could even glide to from one to the next with ease. Whatever I have to do, I will do it for the smoothest gliding experience.
I don't expect them to go stupidly fast as in Minecraft, more of a respectable speed of Genshin and Craftopia at a more noteworthy pace. If done right I wouldn't even suggest having helicopters or simple prop planes, though those I still would love to suggest.
Potential "beginner" and/or Medieval Variant.
With the biomes update upcoming in two parts (as of this posting) we have a few more weeks to go. Has me wondering if we could tap into the gliders then, after, or after-after, potentially in an NPC update. Maybe use it as a surprise update? Whatever Red51 wants to do.
We need to tap into the sky of Rising World, something that's even under-utilized even in Minecraft, even poorly handled by Mojang's Microsoft side of things. I'm an overly curious person, I simply want to know more and how people would view gliding in Rising World.