Hi folks! A new update is available now, it took much longer than expected, and we are really sorry about that. First of all: This is unfortunately not the dungeon update. They're still in the works, but other things (Plugin API etc) caused a big delay.
Nevertheless, this update is quite mentionable. It can be considered as a preparation for the dungeons, but it also introduces some new features, and many bugs have been fixed (especially the annoying "falling-through-ground" bug - if you still encounter it, please let us know).
Main focus of this update was the improvement of the animal behaviour (that was necessary for the upcoming dungeons update). Animals still need work (proper water detection, better AI etc), but especially the collision detection should work much better now - in other words, animals will no longer be able to walk through walls or fences (which happened sometimes in the past), so you should be able to create a small farm now and fence in some animals.
Apart from that, animals now also get fall damage (and die eventually) when falling from a certain height.
Please keep in mind that we did many extensive changes to the animal implementation, and of course there is a chance that there are bugs or other unforeseen issues, or that the animals simply don't work as intended, so we need your feedback on this. If you encounter any issues with the animals, just let us know.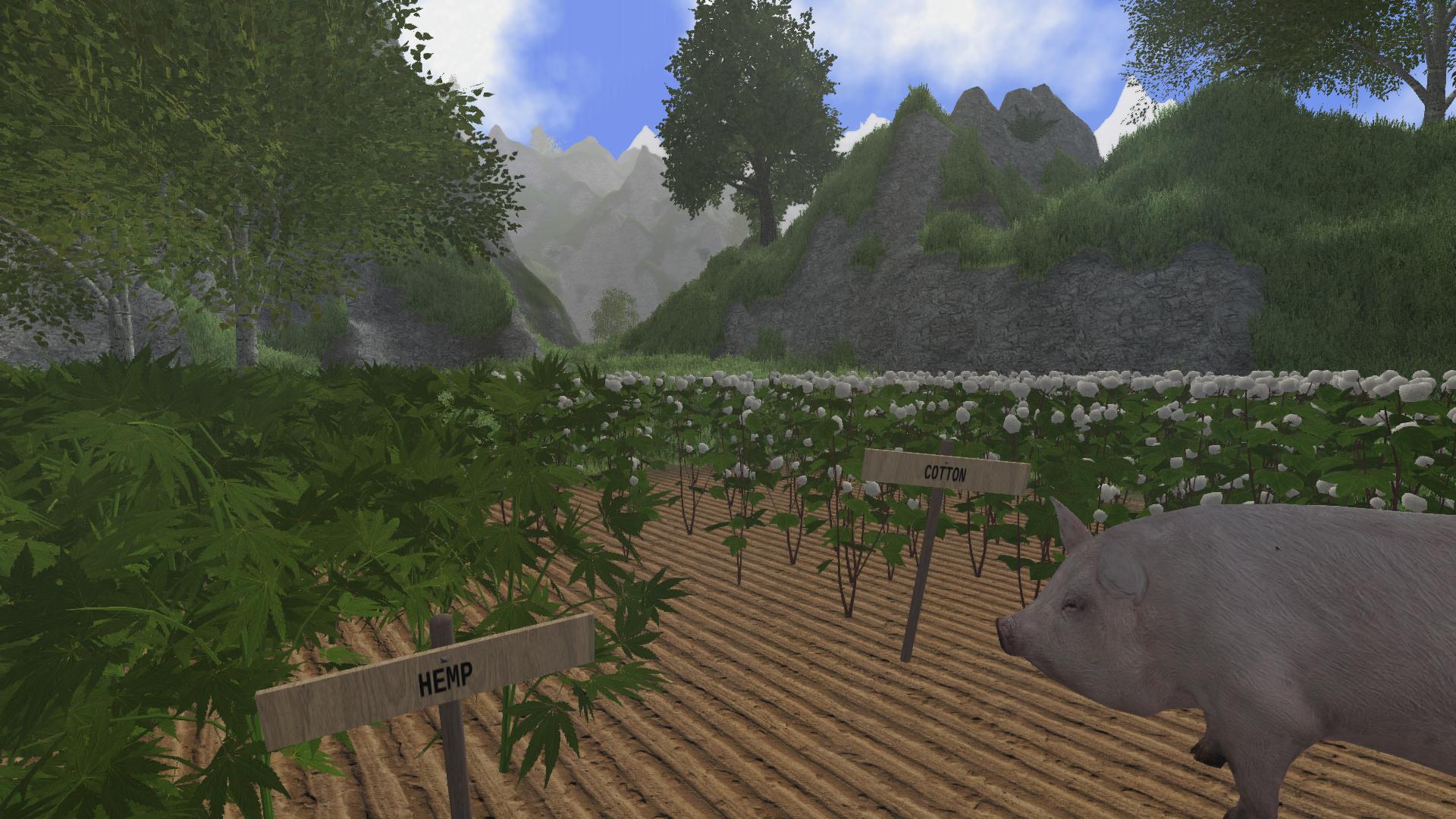 Apart from these changes, this update introduces some new features: For example there is now a chance that animal attacks can cause bleeding. This can be cured by using a bandage, which is introduced with this update as well.
There are also two new plants in this update, a hemp plant and a cotton plant. You can can get hemp fibers / cotton from these plants, which can be used to craft cloths (which are needed to craft bandages).
By the way: Be careful when breaking your bones, since this has a negative impact on your mobility now. It can be "cured" with a splint (requires sticks and bandages), but even though it restores your mobility, it takes some time until the broken bone is really cured. During that time you should be very cautious, even minor falls can break your splint and deal some extra damage.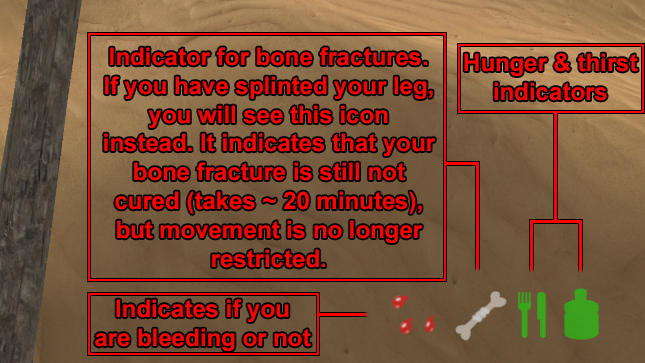 Furthermore, you have "infinite" stacks of items in creative mode now. This makes building a lot easier. Another new comfortable feature is the ability to place multiple blocks vertically now.
Last but not least placed blocks can be "deconstructed" (i.e. you can pick them up) by using the sledgehammer.
There are several other additions and changes, to get a full overview, check out the changelog.
PS: Probably the Plugin API will be available by the end of this month.
Changelog:

[New] Added moon to nightsky
[New] Bleedings can now occur when being attacked by an animal
[New] New item: bandage, which can be used to stop bleedings
[New] New item: splint, which can be used to heal bone fractures
[New] New items: hemp leaves, hemp fibers and cotton (can be used to craft clothes)
[New] Added notification when collecting items/resources
[New] New objects: various sized wooden crates (can be used to store items)
[New] New door: saloon door (15 variations)
[New] New plants: hemp and cotton (can be cultivated)
[New] Item stacks are infinite now in creative mode (new creative permission: infiniteitems [true/false])
[New] Multiple lines of blocks can be placed vertically now
[New] Added spawn protection for 20 seconds (hostile animals will not attack), can be adjusted in properties
[New] Added "makeadmin", "revokeadmin" and "setplayergroup" as direct input command for the server
[New] Added information about smelting furnace to the journal
[New] Placed blocks can be deconstructed (and collected) by using the sledgehammer
[Change] Improved collision of animals, they should no longer be able to walk through walls (need feedback!)
[Change] Aggressive animals can no longer hit you through walls
[Change] Animals get falldamage now when falling from a certain height
[Change] You hear a notification sound now when block or object placement is not possible
[Change] Block placement is now less restrictive if the player is very close
[Change] Signs need to be labelled manually now after placing them
[Change] Previously hit block/plant/object is stored now, so the damage does not reset when you stop hitting it
[Change] Improved many sound effects and also added new sounds
[Change] Screencolor slightly changes now when player is on low health
[Change] Improved ladder climbing (no longer getting stuck)
[Change] Improved player and item sync in multiplayer
[Change] Slightly improved readability of gui texts
[Change] Slightly changed color of day sky
[Change] Changed date format
[Change] A server restart will be advised after 24 hours now (can be disabled in properties)
[Change] Bone fractures now reduce movement speed of the player
[Bugfix] Fixed various bugs which caused some crashes in certain situations
[Bugfix] Greatly reduced occurrence of "falling-through-the-ground" bug (if you still encounter it, please let us know)
[Bugfix] Fixed "invisible animals" attacking you in rare situations
[Bugfix] Fixed underwater fogginess
[Bugfix] Fixed water lod surface generation (sometimes resulted in disrupted water surfaces previously)
[Bugfix] Fixed other players being invisible in multiplayer sometimes (need feedback)
[Bugfix] Fixed ban message (reason was not displayed)
[Bugfix] Fixed custom image permissions not being applied correctly in some cases
[Bugfix] Fixed filling up of furnaces (sometimes it was possible to place ores between the slots)
_________________________________
Bugfix 2016-09-19:

[Bugfix] Fixed bug which prevented you from collecting ores
[Bugfix] Fixed missing hemp and cotton saplings
[Bugfix] Fixed spawn of hemp and cotton plants
[Bugfix] Fixed a crash which occurred in certain situations
[Bugfix] Fixed "splinted bone" indicator still being visible after loading another world
_________________________________
Bugfix 2016-09-20:

[Change] Playercollision no longer affects items
[Bugfix] Fixed missing labels in crafting menu
[Bugfix] Fixed "invisble" signs
[Bugfix] Fixed items not being saved correctly in large crates
[Bugfix] Fixed an issue which affected the "WorldEdit" Lua script