Hey folks! A new update is available now, it introduces some new items and especially new crafting stations: a grinding station, a tanning rack and a spinning wheel. These are fully interactive crafting stations, i.e. there is no GUI, so you interact with them directly (like the smelting furnace).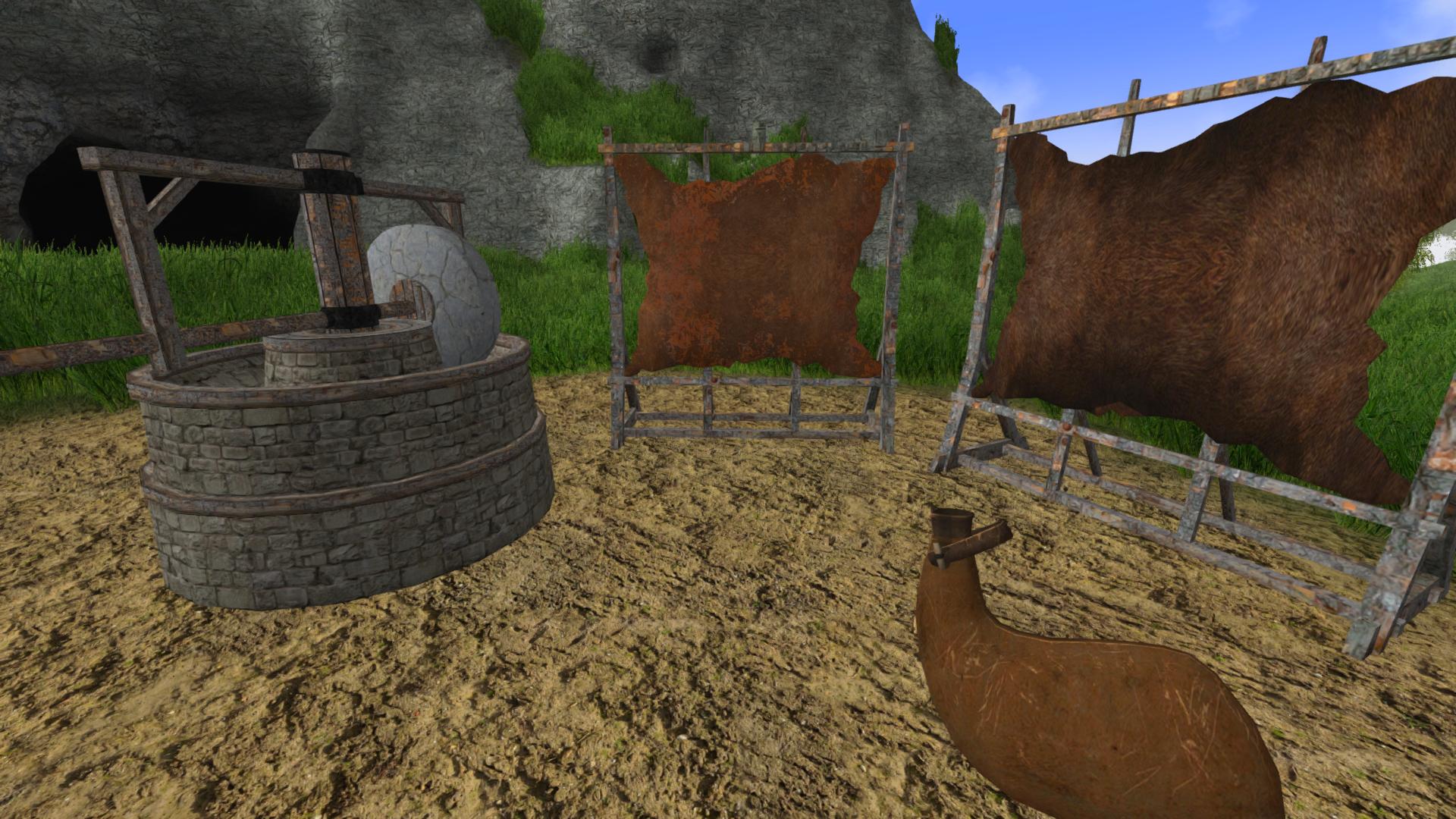 The grinding station is used to crush stone to gravel (in the future it will be used to crush many other items as well), the tanning rack is used to turn rawhides (which can be obtained from animals) into leather (a hunting knife is required), and the spinning wheel is used to spin a yarn (from wool, cotton or hemp fibers).
In addition, we also did some smaller changes to the game (e.g. when destroying a chest full of items, these items will spawn in the world instead of disappearing), polished some existing features and fixed some bugs. As usual, find the full changelog attached

Stay tuned!
__________________________________________
Changelog:

[New] New crafting stations: grinder, tanning rack, spinning wheel
[New] New construction element: wood log (cylinder)
[New] New items: waterskin, tiger and jaguar pelt, leather, thread reel, hunting knife*
[New] New two new music tracks (day+night)
[New] When destroying a chest with items in it, all items will drop on the ground (experimental feature)
[New] Added background scenes to main menu
[New] Added intensity slider for "Ambient Occlusion" to the graphics settings
[Change] Chunks will be "smoothly" detached now, this should prevent short white areas between chunks while travelling
[Change] The weather stays good for longer now
[Change] Improved drag/drop responsiveness (especially when the framerate is low)
[Change] Improved water rendering around shore in LOD chunks
[Change] You can change the text on signs now by pressing the interaction key (F) twice
[Change] You can also chat now while sitting or sleeping (multiplayer)
[Change] You can reset the size of a construction element by holding the "resize" key (shift) while pressing the reset key
[Change] Improved appearance of ores (no more "white" spots or messed up textures)
[Change] Reduced cracks / seams between construction elements (planks, beams etc)
[Change] When picking up an item while the inventory is full, the item will drop to the ground now
[Change] Slightly changed the wordings in the "first steps" section of the journal
[Change] Increased max flyspeed to 400% (need a powerful computer so world generation can keep up)
[Change] Raking sand, snow, mud, gravel etc. no longer turns it into dirt (same applies to the sledgehammer)
[Change] Picking up an item wakes up all nearby physical items, to avoid floating items (only applies to physical items)
[Change] Changed recipe of small trashcan
[Change] You can fuel the smelting furnace faster now
[Change] Slightly improved overall performance
[Bugfix] Fixed an issue which disabled some graphics features when starting the game for the first time
[Bugfix] Fixed placement issue with radiators (can only be placed on north/west facing walls)
[Bugfix] Fixed bug which prevented animals from spawning when spawn rate was set too high (multiplayer)
[Bugfix] Weather will be synchronized correctly now when joining a multiplayer server
[Bugfix] Color vibrance value will be saved correctly now
[Bugfix] Fixed missing needle on ore detector on some machines (need feedback)
[Bugfix] Different farmland block shapes (cylinders etc) are recognized as farmland now
[Bugfix] Fixed rare bug which prevented chunks from loading properly
__________________________________________
Bugfix (2017-02-14):

[Change] Chat closes now when pressing return while the input field is empty
[Bugfix] Fixed erroneous grinder rotation
[Bugfix] Fixed misplaced needle on ore detector
[Bugfix] Fixed item icons being stuck on cursor when moving them to/from chests
[Bugfix] Fixed crash when mining resources (ores etc)
[Bugfix] Fixed invisible terrain/blocks in certain situations
__________________________________________
Bugfix 0.8.1.1 (2017-02-14):

[New] Added several variations for the spinning wheel, grinder and tanning rack
[New] Added small progress indicator to the spinning wheel
[Change] Adjusted texture scale on construction elements (planks, beams etc)
[Bugfix] Rake works properly now (no longer turning sand into dirt, for example)
[Bugfix] Hides on tanning racks are no longer visible through walls when logarithmic depth buffer is disabled
[Bugfix] Fixed a crash caused by tnt
[Bugfix] Fixed weather issues in multiplayer
[Bugfix] Crafting stations category no longer appears twice in the crafting menu
__________________________________________
Bugfix 0.8.1.2 (2017-02-17):

[New] You can shift+click an item now to move it to a chest and vice versa (same as double click)
[Change] The rake turns grass into dirt again
[Change] Changed texture alignment on construction elements, still WIP
[Bugfix] Fixed records not being visible on gramophone
[Bugfix] Fixed "red water" in menu background scenes
[Bugfix] Seedlings can be planted on farmland blocks again
[Bugfix] The spinning wheel should only give a single thread reel at once now